As from Monday 17 May the event platform of the Busworld North America Digital Summit is open to all sponsors and attendees. It's time to start planning your summit and add those sessions you would like to follow to your agenda. It's also a great opportunity to start connecting with speakers, fellow attendees and sponsor team members before the actual event on 2, 3 and 4 June.
Register now for free and get early access to the event platform
Signing up for the Busworld North America Digital Summit can be easily done through this link: SIGN UP HERE. The advantage of registering now is that you'll get immediate access to the event platform, which means you have that extra time to take a good look at the full program and plan your sessions in advance. As you can see in the image below the platform is very user-friendly and works really intuitive.
What else is possible next to making your schedule?
Find out who else will be attending the event and make a connection with them to start sharing ideas and experiences. The AI matchmaking in the platform will make relevant connection recommendations for you!
Connect with the speakers on behorehand and start up the conversation
Discover what products and services the sponsoring companies have on offer for you. Seen something interesting for your business? Make the connection with the sponsor team members and start doing business. (overview of sponsors down below)
Check out the product video library

  to check out the full program!
To get full access for free to the event platform REGISTER HERE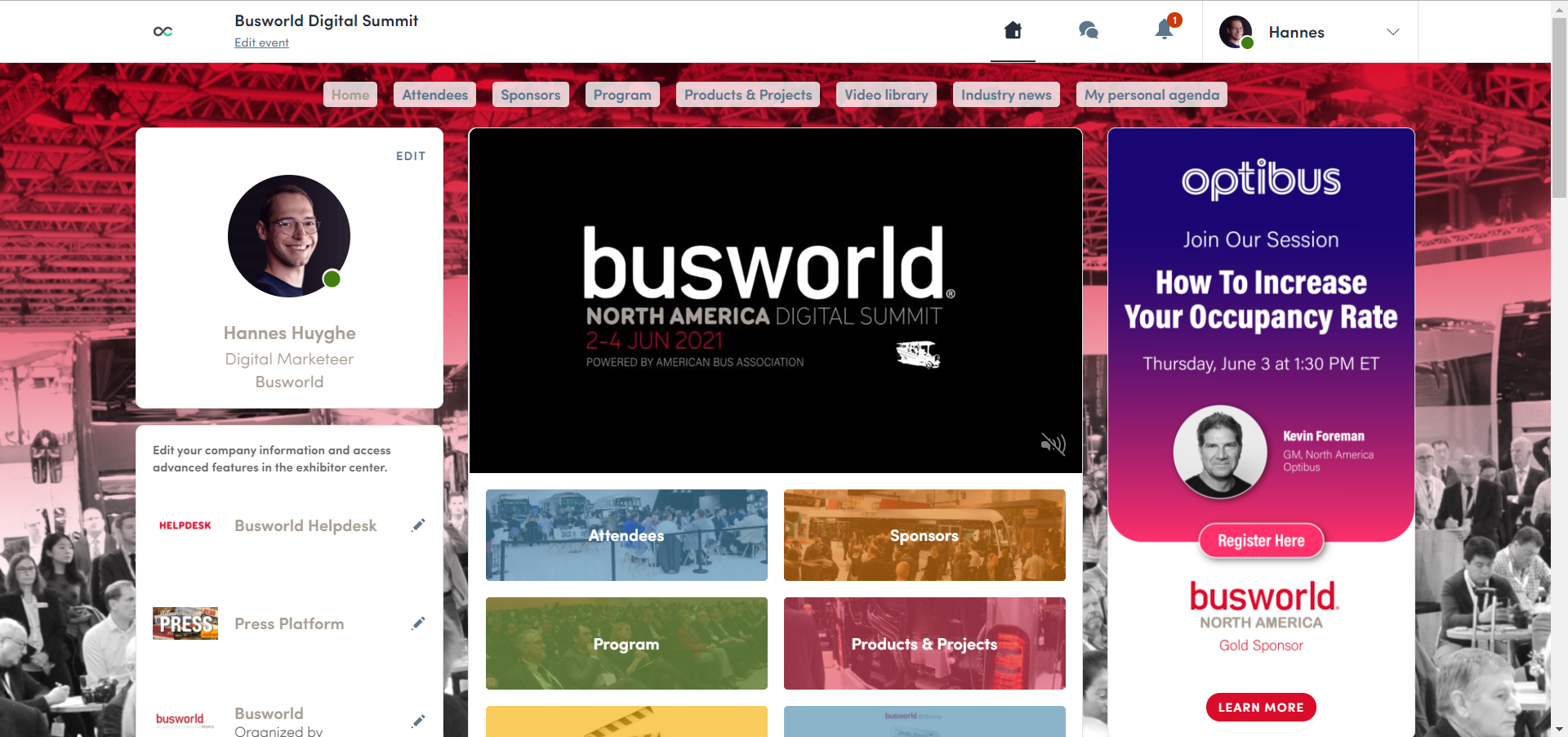 In case you're still encountering any issues, the Busworld online HELPDESK is at your service to get you going again.
Who are the sponsors?
Thanks to the sponsoring companies this Busworld Digital Summit is free of charge for all attendees. But who are they? An overview:
Gold sponsors
ABC Companies
BYD
Motor Coach Industries (MCI)
Optibus
Prevost
Zenobe Energy
Silver sponsors
ACTIA
BusUp
CheckMyBus
Eberspächer
ExPretio Technologies
Flettner Ventilator
Hispacold
Lufthansa Industry Solutions
Valeo
Rocsys
United Safety & Survivability Corporation (USSC)
Viriciti
Zeelo
Bronze sponsors
Globus Electronics
Sanz Clima
SnapXit
Topbus (Transtec)
YOUR INDUSTRY IS LOOKING FORWARD TO MEETING YOU ONLINE AT THE BUSWORLD DIGITAL SUMMIT!
The Busworld North America Digital Summit is supported by BUSRide Magazine, Community Transportation Association of America (CTAA), Mass Transit Magazine, National School Transportation Association (NSTA) and the North American Transit Alliance (NATA).